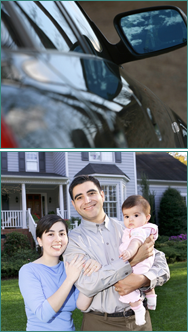 Auto Insurance
We offer several convenient payment plans to help you fund your auto insurance coverage with Butch Nowak Insurance Agency, including monthly payment plans and electronic payment options. To get started, simply get in touch with our agency and share the following information with our helpful agents:


• Name
• Home Address
• Social Security Number
• Driver's License Number
• Number of Vehicles in Your Household
• Number of Drivers in Your Household
• Which Members of Your Household Are Licensed and
Which Are Not



Home Insurance


Choose from a superior selection of dwelling insurance plans, including long-term homeowners insurance, condo insurance, renters insurance, and mobile home insurance. Our helpful agents will gladly provide home insurance coverage for residential properties of every shape and size.


Life Insurance
Look ahead to the future with all-in-one life insurance plans from Butch Nowak Insurance. We offer a wide range of life insurance options, including highly accessible whole life and term life insurance plans. Whole life insurance will keep you insured for your entire lifetime while term life is only meant to apply to a set period of time.